Welcome!
Welcome to the Isekai Quartet Wiki, a wiki dedicated to anime series Isekai Quartet. This is a wiki where everyone can help out by adding and editing articles! The wiki currently has had 2,348 edits over 126 Articles with 207 Images and has been expanding since June 2019. New and experienced Wikia users are welcome to contribute to the community - just be careful of spoilers! Use the Navigation Bar or the Slider below to find your way around; and if you are ready to edit, check out our Community Portal to find advice to make sure your edits count!

Main Characters Visual Navigation

Media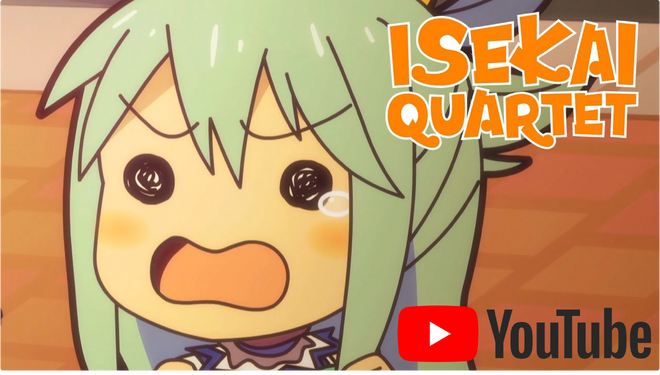 Ways to help!
Not sure where to start?

Find out more about the community by visiting some of the pages on our Wiki. Use the navigation bar on the top of the page, or, go to a random page!
Start watching some Episodes and engage in conversation in our Forums page.
If you are new to Wikia, check out the tutorial.
Adding content
Visit our Community Portal. This is the starting point for all editors of this Wiki. There, you will find information about new pages, find ways to help clean up the site, and expand our growing range of articles. Meet the Administration team here.

Affiliated Communities
What's new
<see old entries> <add new entries>
Isekai Quartet goods now on sale! Now shipping worldwide ♪ Buy keyrings, shirts, button pins, hoodies, wallets, mugs, rulers, portable chargers, stickers, files and more! We look forward to your order!
The second volume of "Isekai Quartet 2" BD / DVD is on sale. Order now!
#KADOKAWAAnime100 ~to celebrate 100 years, 100 OP videos of your favourite anime series have been released! 'Isekai Quartet' ♪ Ainz & Kazuma & Subaru & Tanya
Season 3 has been confirmed!
Roswaal urges you to follow the official Twitter page!
Latest Episode
The Show Begins! Showtime
The curtain rises on the school festival! There's a special guest, too…
New Main Page!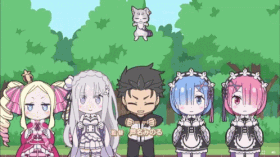 Welcome to our new Main Page! Let's celebrate with a resonance!
Community content is available under
CC-BY-SA
unless otherwise noted.